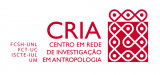 CRIA
CRIA is an inter-institutional Centre devoted to advanced training and research in social and cultural anthropology, founded in 2007, and based on pre-existing long-term and productive cooperative relationships between scholars from four top Portuguese universities (ISCTE-IUL, FCSH-UNL, FCT-UC, UM). In three years, CRIA has become a national platform in anthropology which promotes new research opportunities and seeks to lead innovative scientific research in Portuguese anthropology, thus promoting its internationalization.
The administrative structure of CRIA is divided into four institutional subunits, each one autonomous to develop its own activities as well as to promote joint activities with other research and/or teaching units. CRIA's scientific resources are focused on research groups linked to four thematic lines: 1) Social Identities and Differentiation; 2. Culture: Practices, Politics, Displays; 3. Migrations, Ethnicity, Citizenship; 4 Power, Knowledge, Mediations.
The scientific and executive boards promote researchers' mobility between institutional units in order to facilitate cooperation and team work within and across thematic lines.
Research at CRIA is predominantly fundamental, and its outcomes are diffused through academic journals, books and conferences. Nonetheless, collaboration with policy makers and public institutions has also been stimulated thus contributing to a greater importance of anthropological knowledge and expertise in Portuguese society.

PLUX, Wireless biosignals, S.A.
With a past of six years on the development of its current products, which were conceived in strong partnership with the scientific mean, PLUX has as main attractive the strategic potential of its products and its innovative ideas.
Given the strong partnerships established with other scientific institutions, PLUX sets the bridge between the academic mean and the market by applying and projecting the research know-how to problems and practical needs in several technological areas. By being in close contact and accompanying its costumers, PLUX manages to find new solutions, new applications and new strategies of action on the market.
PLUX line of products is characterized by its great quality, versatility of application and simplicity of use, being equalized to the state-of-the-art in the areas where PLUX has its main activity: the study of human electrophysiological activity. PLUX conceives, develops and produces sensors and wireless acquisition systems with proprietary software.
Though it is centered on biosignals engineering, the kind of products developed by PLUX has a wide range of application, covering areas such as healthcare and biomechanics studies or even industry and entertainment. Currently, PLUX products are used at rehabilitation medicine centers for diagnose, recovery work follow-up of patients but also at research centers in the areas of physical therapy, sports, kinematics and ergonomics.
Providing products integrally conceived, designed and produced in-house, PLUX easily adapts its offer to costumers' specific needs. With a multidisciplinary team of specialized professionals, we manage to find solutions that meet your needs by evaluating each specific case and correspondingly adapting the developed technologies.

TEKEVER
The TEKEVER Group (www.tekever.com) is an active player in the national and international sectors of the Aerospace, Defence and Security (ASDS) markets, gathering advanced competences, skills and expertise in the technical and technological areas related with autonomous systems, advanced wireless communications, hybrid and ad hoc networks and space-based platforms and networks.
The TEKEVER Group's distinctive mark in the ASDS domain relies on the development of innovative and emergent technologies that leverage the use of software to increase efficiency and provide value-added capabilities.